Product not included in Free transportation offer
Hilux mattress
The Hilux mattress will give you the ideal sleep, full of well-being and relaxation. Its unparalleled quality materials with hypo-allergenic properties as well as the independent Air flow pocket springs, ensure the quality and comfort required by a mattress.
Available upon request
Available at: Showroom Gerakas
Our Products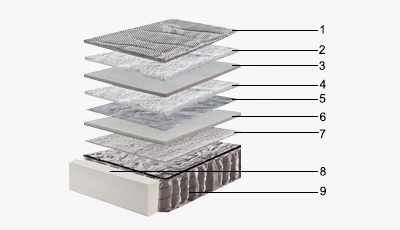 Structure 
1. Marinus Bed fabric.
2. Re-cotton Anti-Allergic Dacron.
3. Low hardness foam.
4. Re-cotton Anti-Allergic Dacron.
5. Stabilizing fabric.
6. Ηigh elasticity foam of medium hardness.
7. Thermal elastic felt.
8. Ηigh elastic foam for perimeter support. 
9. Air Flow Pocket spring  1.80 mm with 256 pcs / m2 with double  side reinforced system.


 5 - Year Warranty
Hilux mattress
Hilux orthopedic matress