Natural anatomical mattress
Natural anatomical mattress
Natural mattress
Choosing the Natural mattress definitely ensures the calm and restful sleep that everyone needs at the end of a demanding day! Independent springs for ergonomics, hypoallergenic and modern materials such as latex and high elastic foam, offer the ultimate sleeping experience.
Available upon request
Available at: Showroom Gerakas
Our Products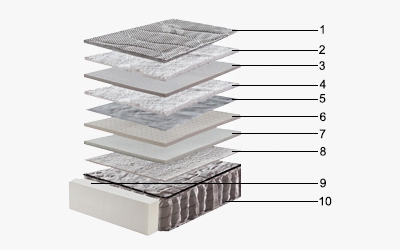 Structure 
1. Navas knit fabric.
2. Re-cotton Anti-Allergic Dacron.
3. High hardness foam.
4. Re-cotton Anti-Allergic Dacron.
5. Stabilizing fabric.
6. Natural Latex.
7. Ηigh elasticity foam of medium hardness.
8. White thermal elastic felt.
9. Ηigh elastic foam for perimeter support. 
10. Air Flow Pocket spring  1.80 mm with 256 pcs / m2 with double  side reinforced system.


 6 - Year Warranty
Natural mattress
Natural anatomical mattress